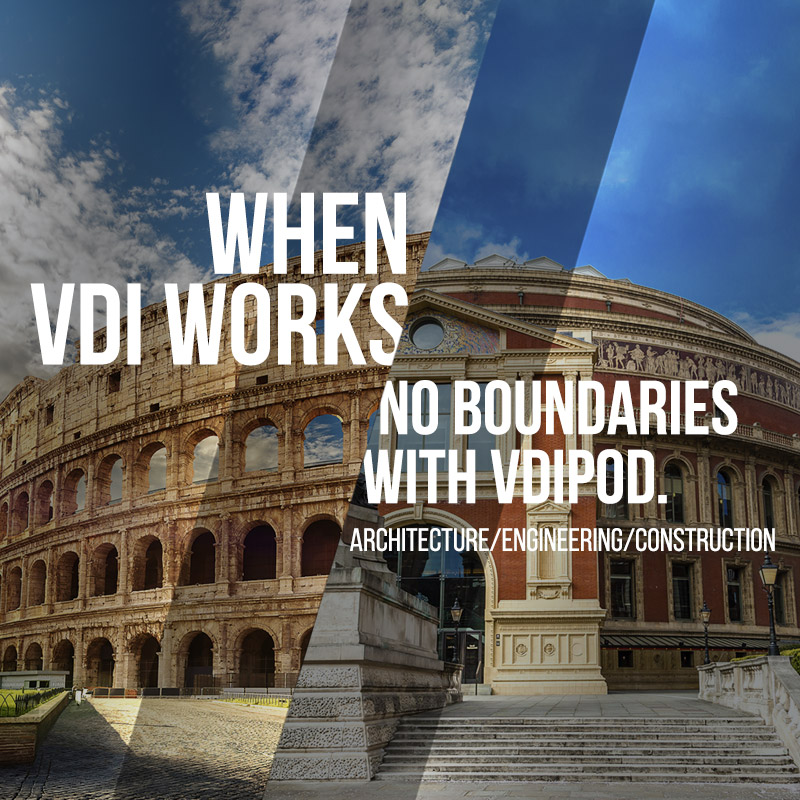 BUSTED: 4 MYTHS ABOUT VDI
Virtual desktop infrastructure for architecture, engineering and construction comes of age.
VDI – it's complex, it's too expensive, it takes ages to perfect. It comes with unexpected costs, security risks, stretched IT resources. It just isn't up to the job for power users like engineers and architects.
It's time to think again. Here, we bust some common myths about VDI.
UNLOCK VDI BENEFITS FOR YOUR BUSINESS
Boosting productivity by enabling people to collaborate effectively from anywhere is a huge opportunity for the AEC sector.
However, many have lost faith as off-the-shelf platforms struggle to cope with graphics-heavy apps like AutoCAD and Revit or mammoth engineering datasets.
Get our essential guide to choosing a VDI solution that works for you.
WHY CHOOSE DESKTOP-AS-A-SERVICE OVER SELF-MANAGED VDI?
Some of the leading AEC firms have already turned to Desktop-as-a-Service (DaaS) to unlock competitive advantage.
How does it compare to self-managed VDI?
Download our comparison to find out how a fully-managed solution can help with hybrid working challenges from solution design and budgeting to scalability, user experience and security.
BUILD YOUR BUSINESS CASE FOR VDI
A case for VDI investment based purely on cost saving is not just unlikely to fly, it ignores the wider benefits you could unlock.
This no-nonsense guide outlines essential steps to building a solid, value-driven case for VDI, drawing on our experience with leading firms in the AEC space.
AEC-GRADE VDI IN ACTION
Purpose-built for the AEC industry, read how our VDIPOD solution delivers real-world superior performance for heavy data and graphics users and international project teams at a global engineering and construction services business, SNC-Lavalin.
Find out how VDIPOD resulted in less downtime and the freedom for designers and engineers to work remotely on plans and designs.
CREATIVE ITC IS REVOLUTIONISING REMOTE WORKING FOR AEC FIRMS
We have unparalleled track record of enabling AEC professionals worldwide to work from anywhere, just as productively as if they were in the office.
Our VDIPOD solution delivers superior performance for heavy graphics users dealing with CAD applications and BIM models, enabling global teams to collaborate more effectively. Watch to find out how.
BOOK A CONSULTATION
As a specialist managed service provider with a successful VDI track record in the AEC industry, we can help you deliver critical projects faster, at less risk and cost. We can provide real-life usage data and feedback to help you benchmark performance in real time and develop a proof of concept.
To find out why many of the world's top AEC firms choose Creative's VDIPOD solution, get in touch to arrange a free consultation.