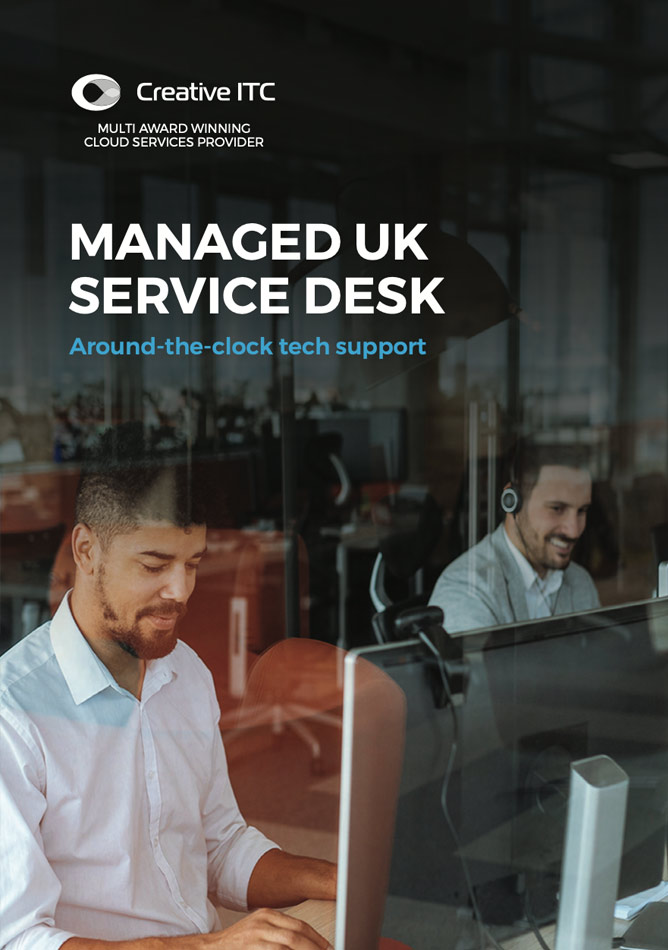 Managed UK Service Desk
Around the clock tech support for your business.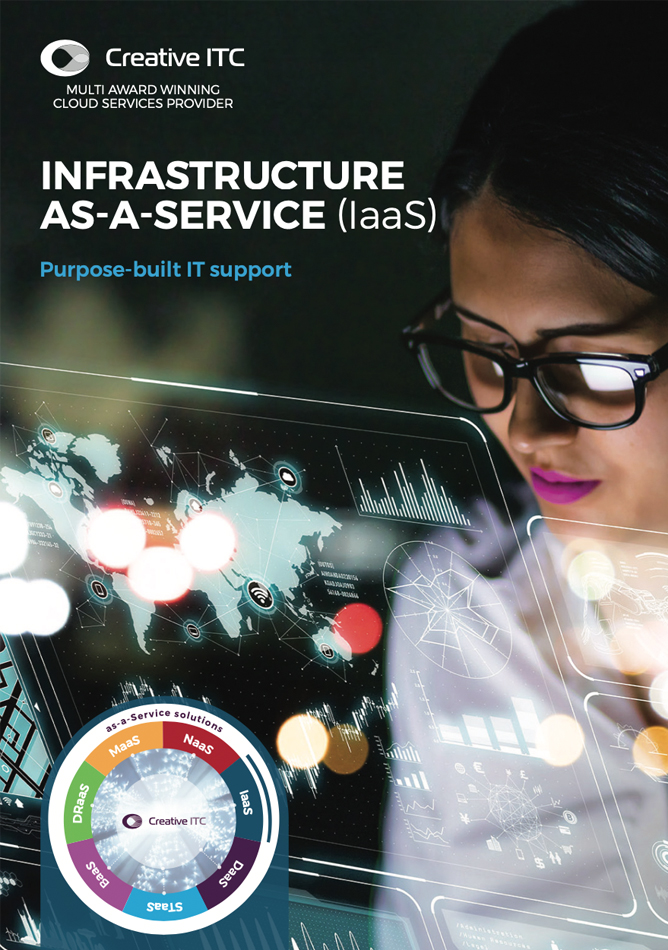 Infrastructure-as-a-Service (IaaS)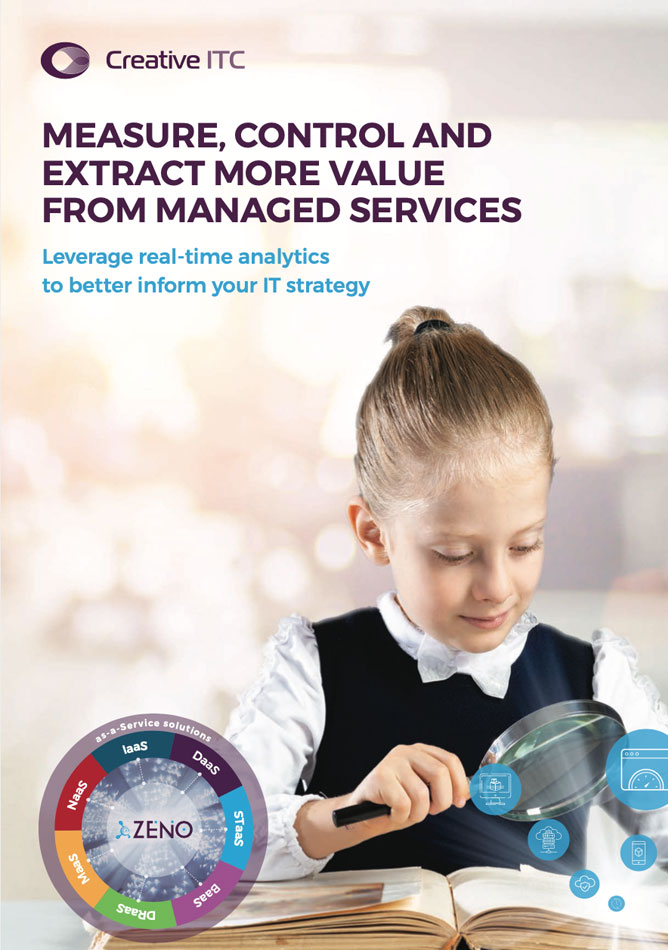 Zeno
Measure, control and extract more value from your managed services with Zeno. Leveraging real-time analytics to better inform your IT strategy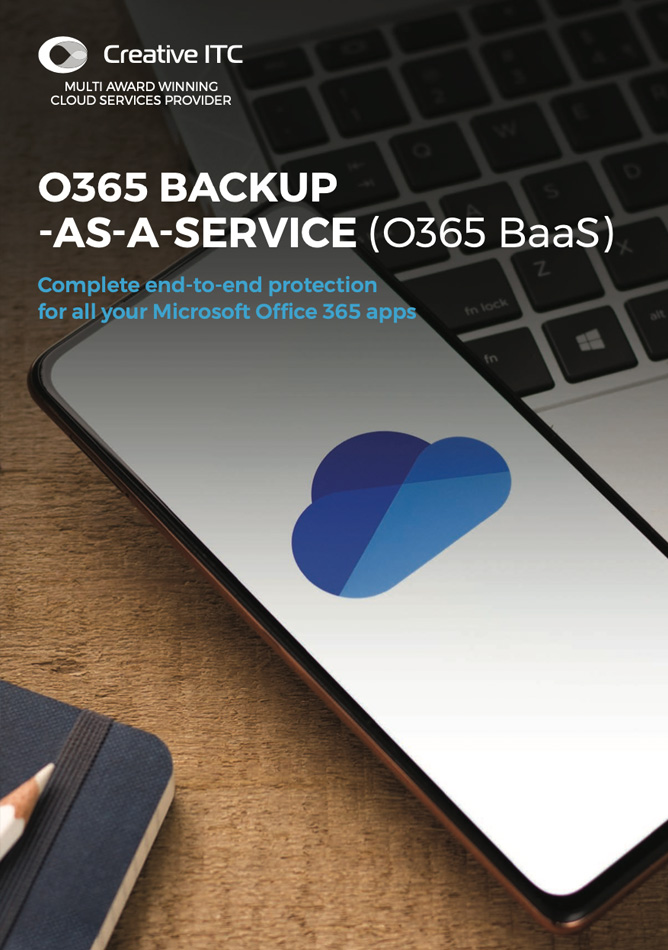 O365 Backup-As-A-Service
Complete end-to-end protection for all your Microsoft Office 365 apps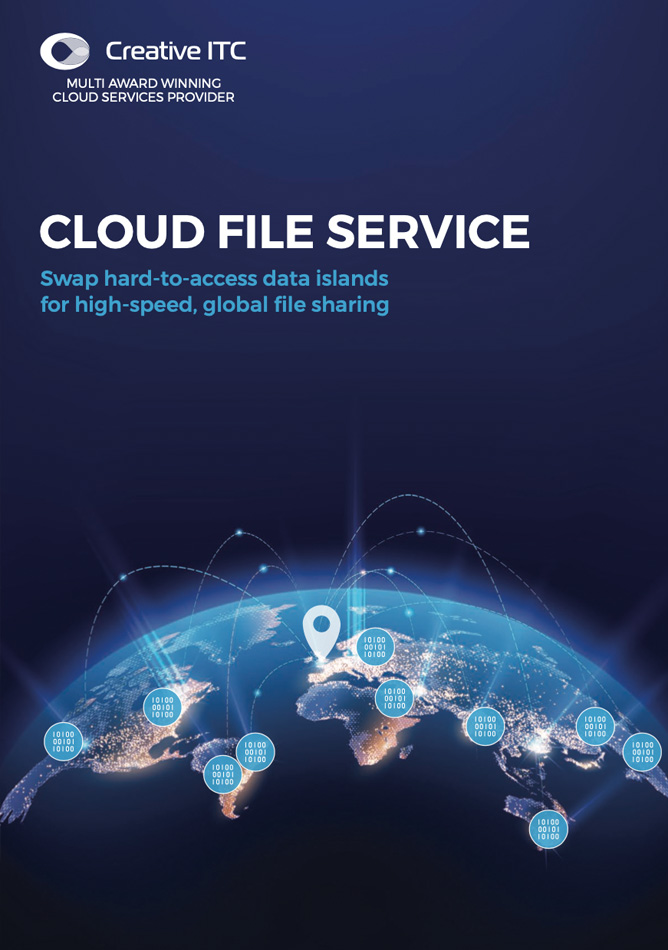 Cloud File Service
Swap hard-to-access data islands for highspeed, global file sharing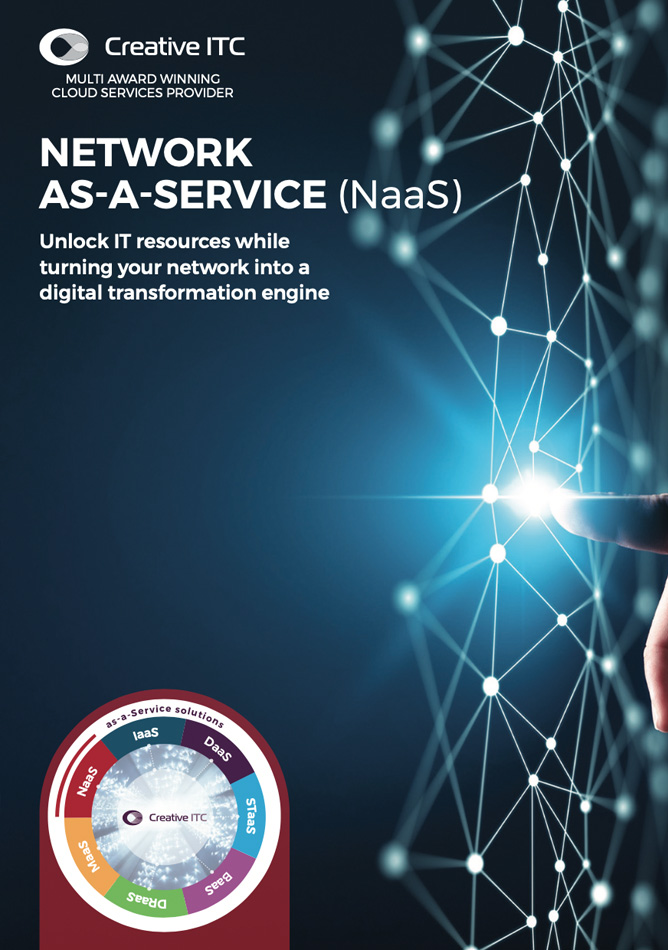 Networking-as-a-Service
With our expertise on hand we can help to ensure your users get the best experience possible and that they have a network that they can rely on.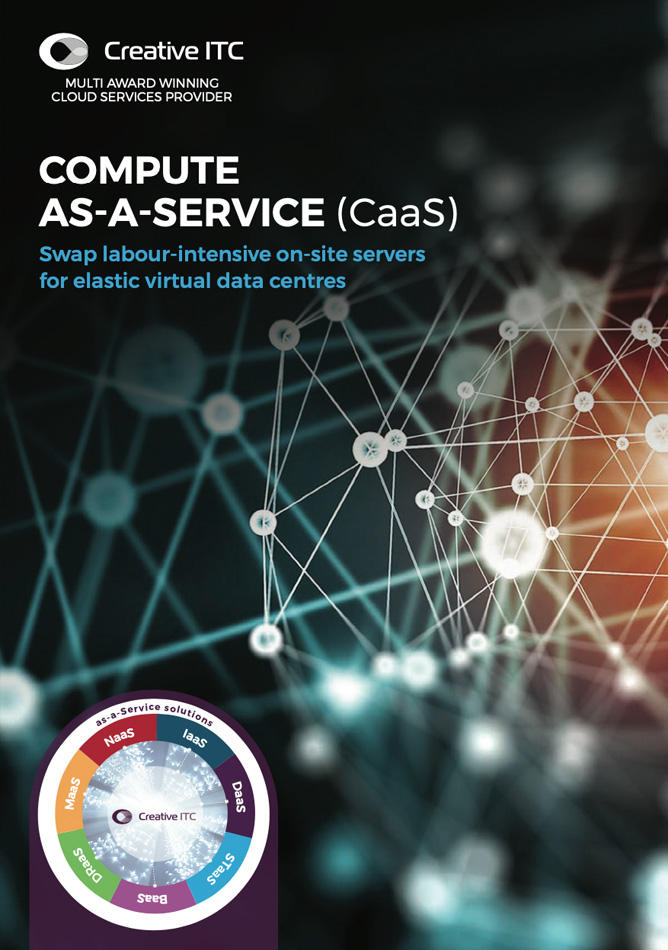 Compute-as-a-Service
Creative Compute-as-a-Service eliminates on-premise server management, data centre costs and upfront capital expense, while also allowing IT teams to scale resources on demand. Server workloads are fully protected in our highly secure, accredited data centres and managed remotely using the market-leading VMware Cloud Director cloud service delivery platform.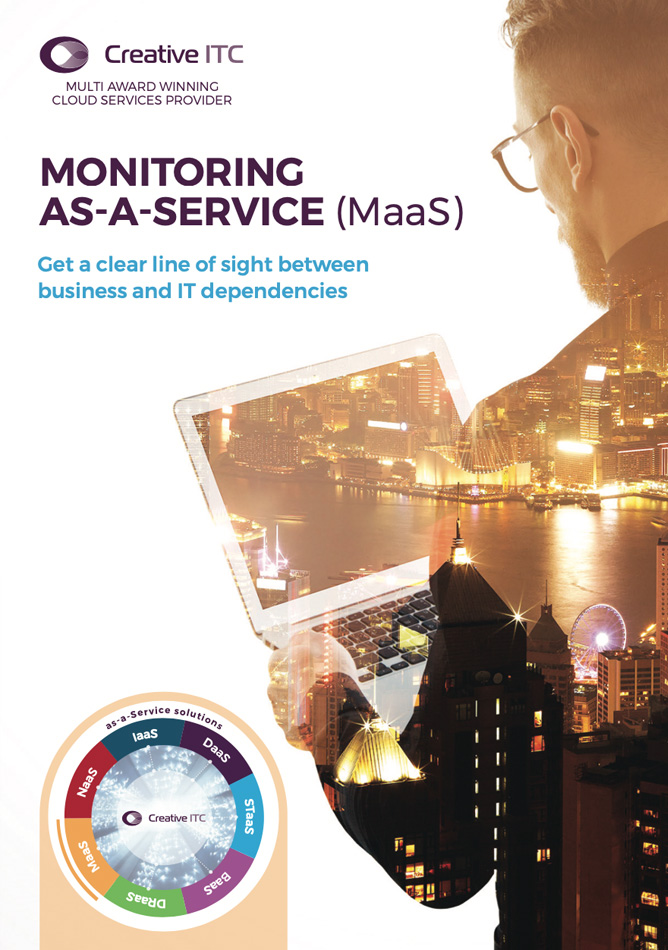 Monitoring-as-a-Service
Infrastructure monitoring is often handed down as another task on top of someone's busy day job. Treat it as the full time job and specialist function it is, without busting budgets.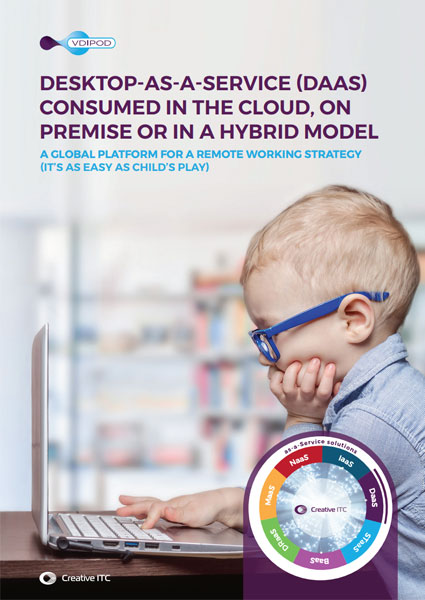 VDIPOD: Desktop-as-a-Service solution
A Desktop-as-a-service (DaaS) solution purpose built for business continuity, workforce mobility and global collaboration. Don't just allow working from anywhere – leverage it.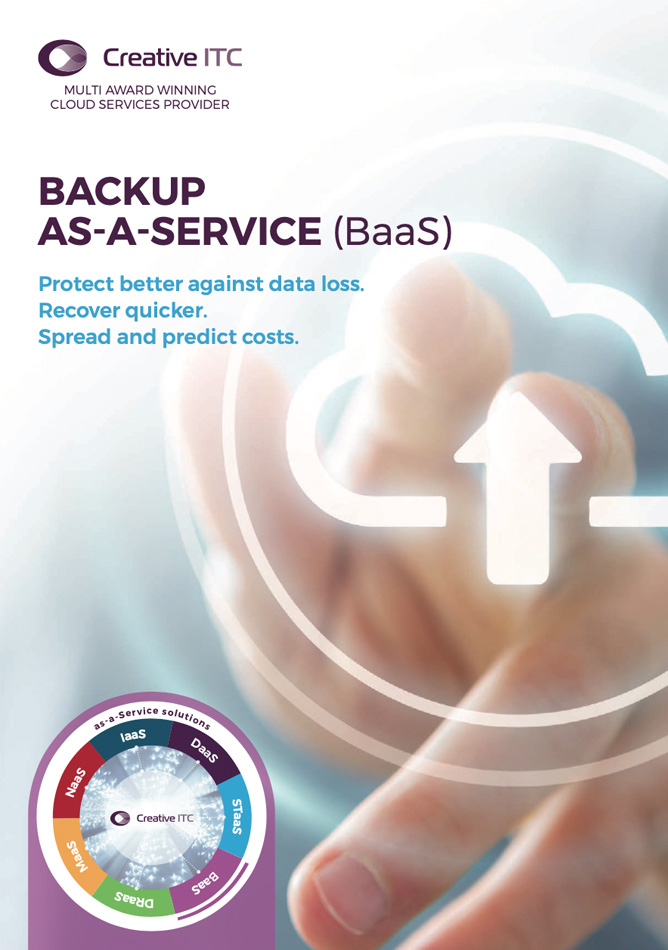 Back-up-as-a-Service
Managed onsite, remotely or as a mix of both, our team of data specialists will take care of everything. Protecting your most valuable customer, product, financial and employee information. Wherever it lives.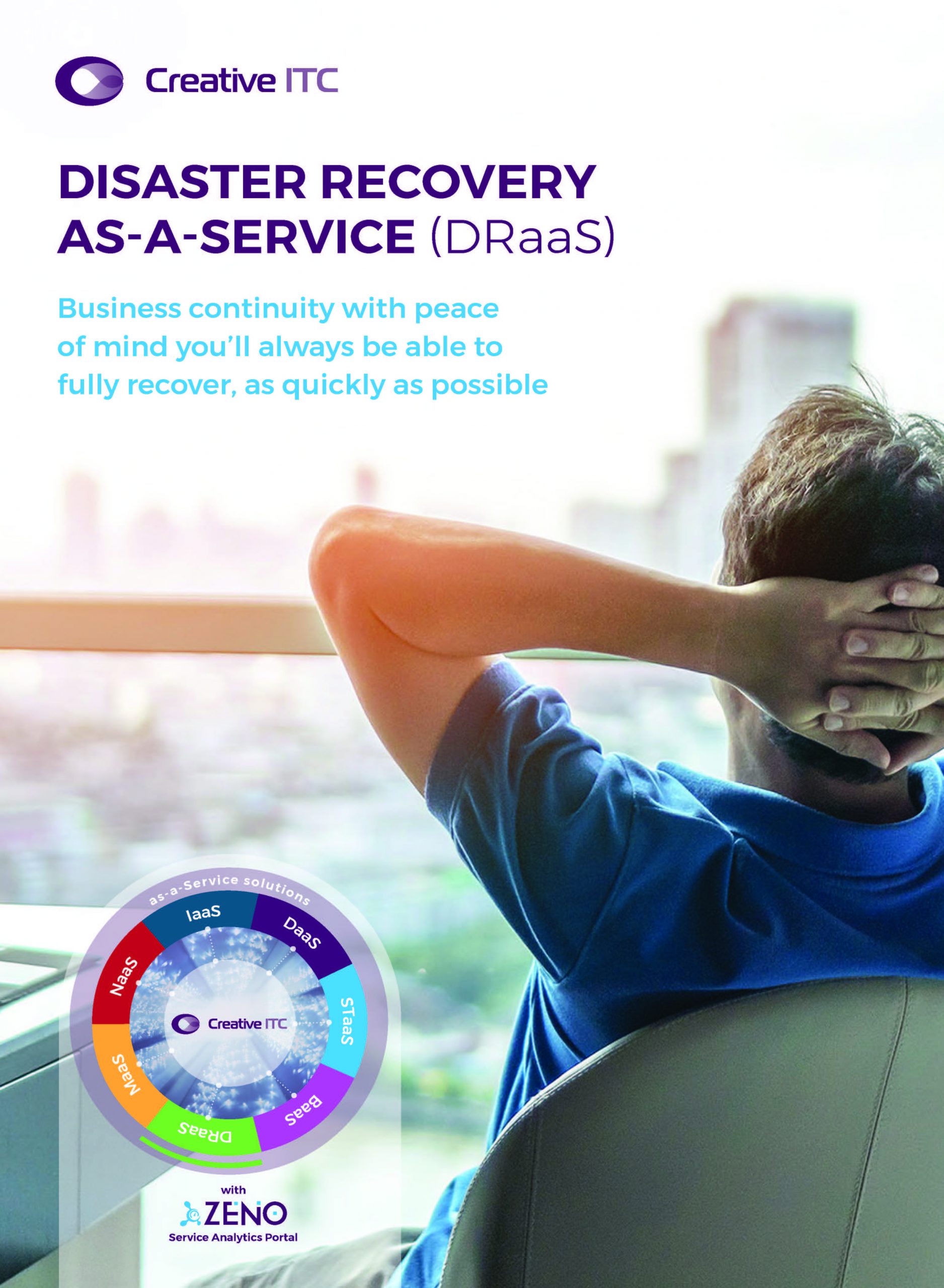 Disaster Recovery-as-a-Service
With some of the best tech experts around we've built a fully managed, hosted backup and business continuity platform, saving you the time and expense of building your own, and giving you peace of mind you'll always be able to fully recover, as quickly as possible.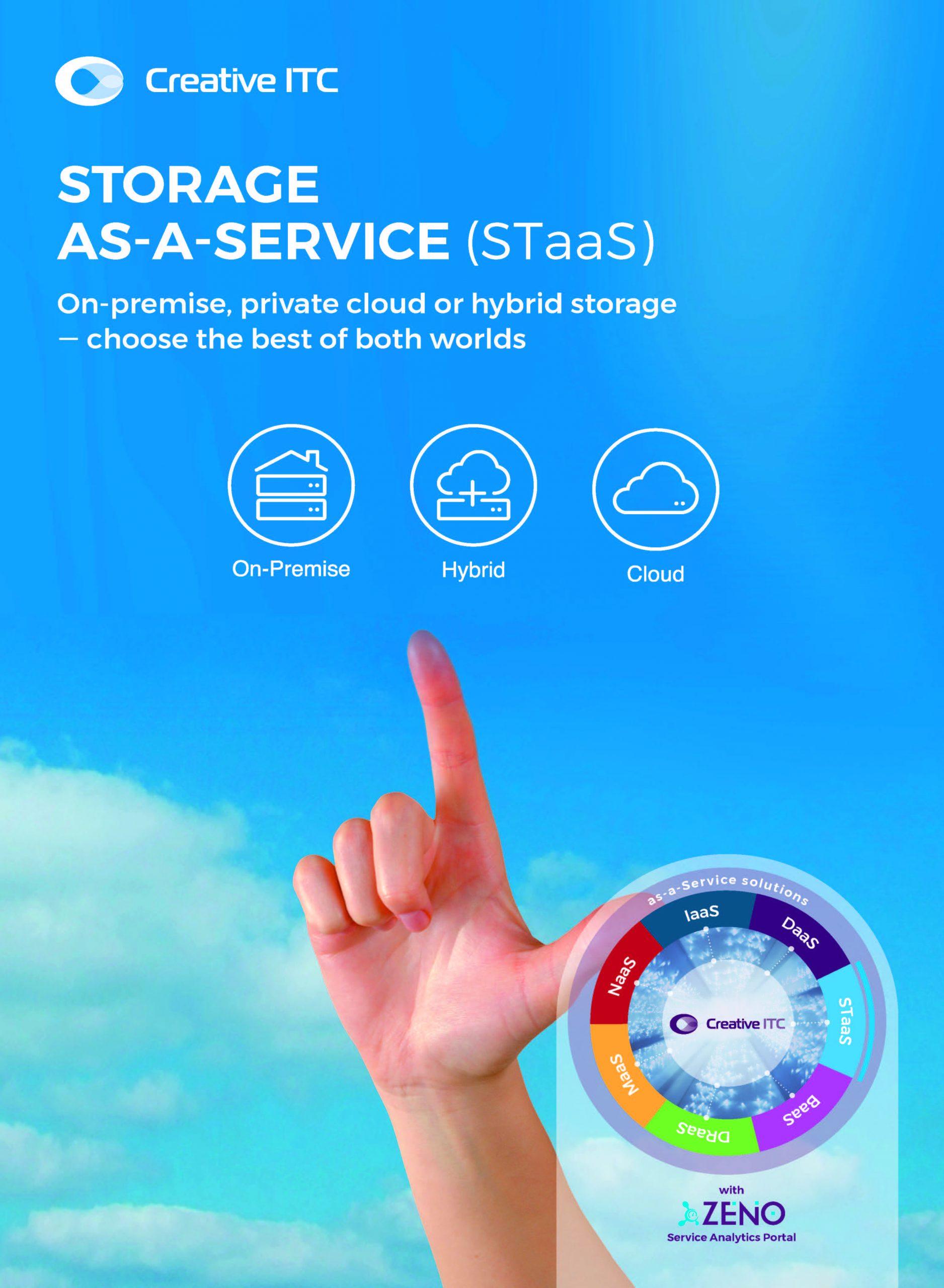 Storage-as-a-Service
Our Storage-as-a-Service provides pay-as-you-go, on-premise, private cloud or hybrid storage, fully managed by our industry leading specialists, giving you more flexibility to choose which data and workloads to keep onsite and which are best suited to go in the cloud.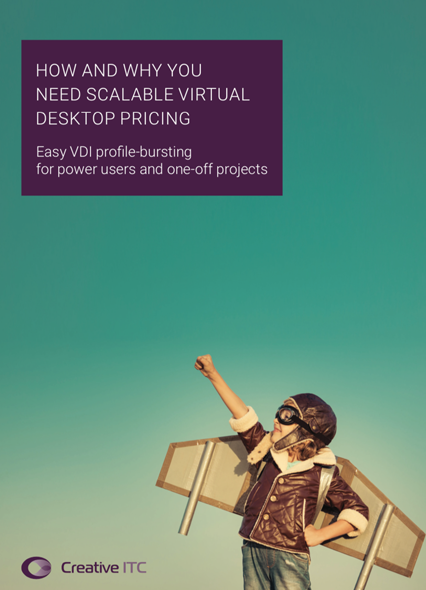 VDI Scalable Pricing
Unlike normal VDI approaches based on fixed hardware or cloud solutions that just aren't flexible, you pay per user, per month, per profile. In return, you receive credits for using our VDIPOD platform (see table) that you can stipulate and reallocate anyway you like.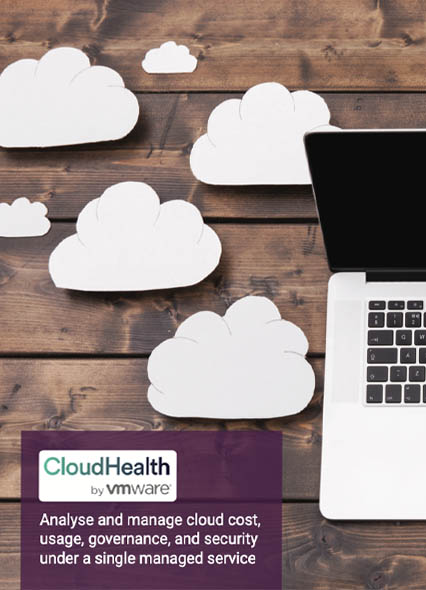 CloudHealth – By VMWare
CloudHealth from VMware eliminates the true cost of battling shadow IT – the time and effort you and your IT team put in behind the scenes trying to keep on top of things. We believe CloudHealth is the most trusted platform for leveraging business intelligence across multi-cloud environment.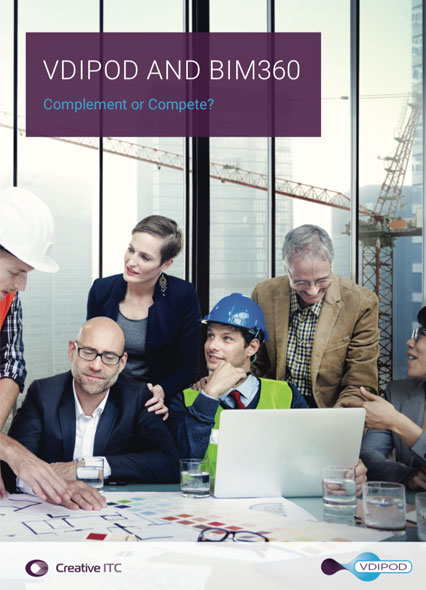 VDIPOD AND BIM360
Collaborating with other businesses is a cornerstone requirement for any IT solution within the AEC sector. Creative's VDIPOD offers several benefits in this area making it the perfect platform to work with your business partners, whether that be Internal Consultants, Joint Ventures or external Subject Matter Experts. While we recommend using our platform for a […]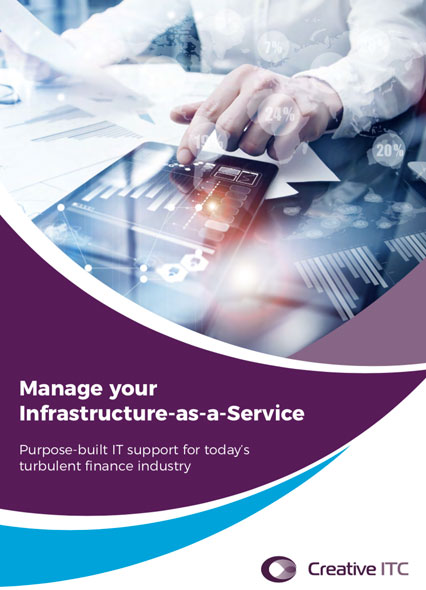 Manage Your Infrastucture-as-a-Service
Imagine not having to worry about retaining IT skills. Developed over years of serving FS clients in the City of London and elsewhere, our Infrastructure-as-a-Service solutions offer both a fully managed or blended IT support model.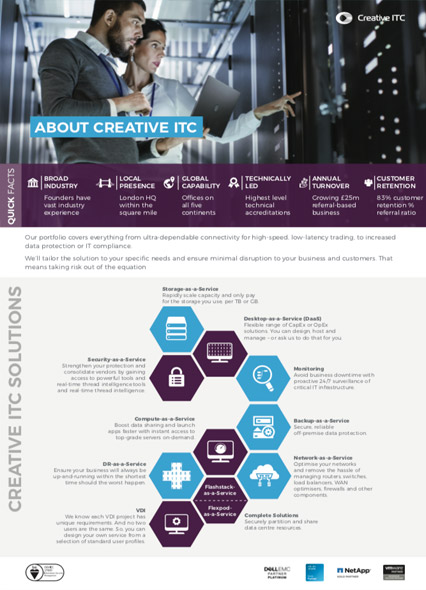 About Creative ITC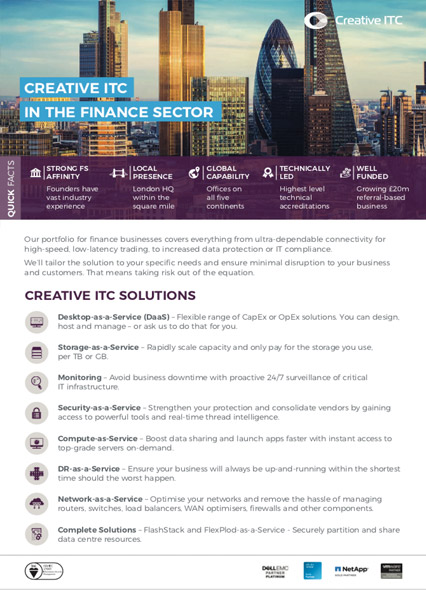 Creative ITC in the Finance Sector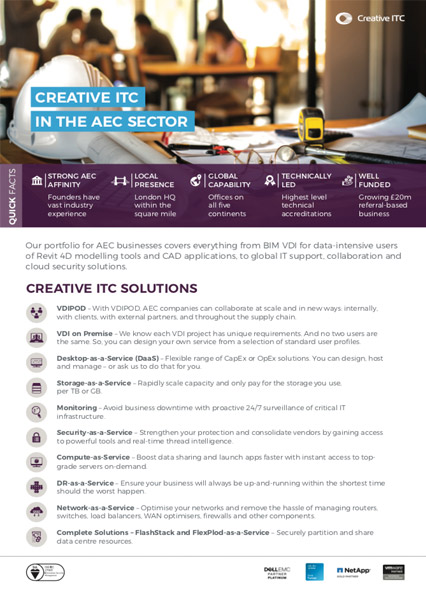 Creative ITC in the AEC Sector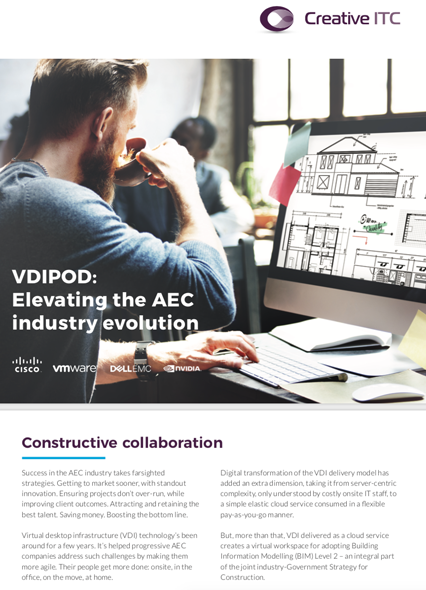 VPIPOD: Elevating the AEC industry evolution
VDIPOD empowers AEC companies and their employees through outsourcing desktop and infrastructure management to Creative ITC, giving IT teams more time to focus on innovation and transformational projects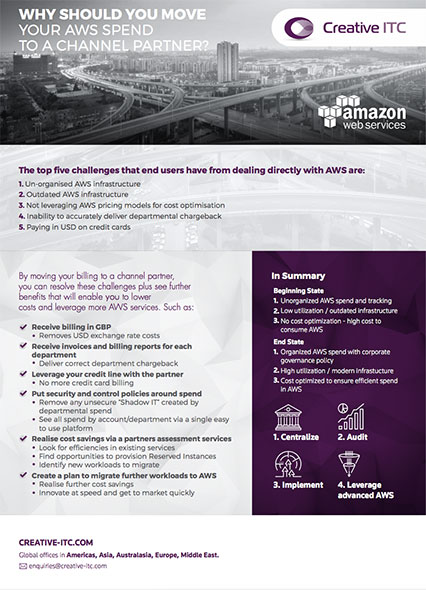 Why You Should Move Your AWS Spend to a Channel Partner
Read our top 5 reasons why you should look to move your AWS spend to a channel partner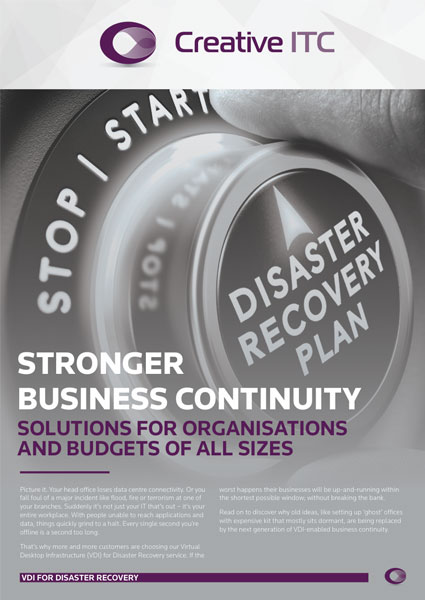 VDI for Disaster Recovery
More customers than ever are choosing our Virtual Desktop Infrastructure (VDI) for Disaster Recovery service. If the worst happens their businesses will be up-and-running within the shortest possible window; without breaking the bank. Download our paper to discover why old ideas, like setting up 'ghost' offices with expensive kit that mostly sits dormant, are being […]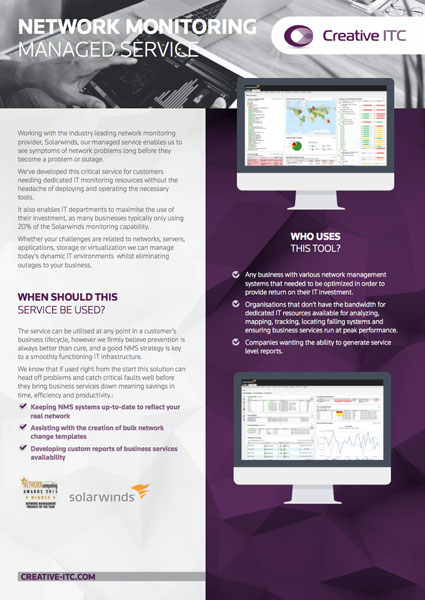 Network Monitoring Managed Service
Working with the industry leading network monitoring provider, Solarwinds, our managed service enables us to see symptoms of network problems long before they become a problem or outage. We've developed this critical service for customers needing dedicated IT monitoring resources without the headache of deploying and operating the necessary tools.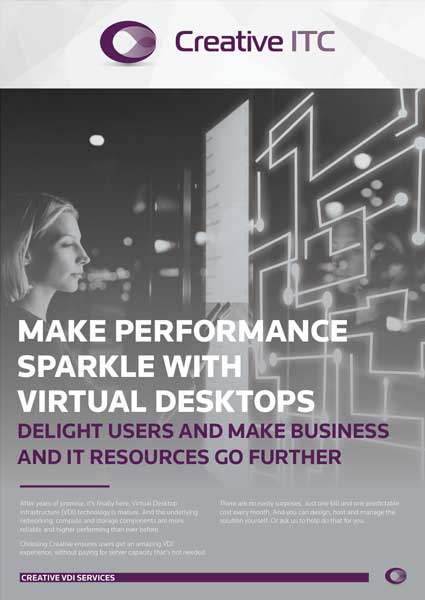 VDI Managed Services
After years of promise, it's finally here. Virtual Desktop Infrastructure (VDI) technology is mature. And the underlying networking, compute and storage components are more reliable and higher performing than ever before. Choosing Creative ensures users get an amazing VDI experience, without paying for server capacity that's not needed. There are no nasty surprises. Just one bill […]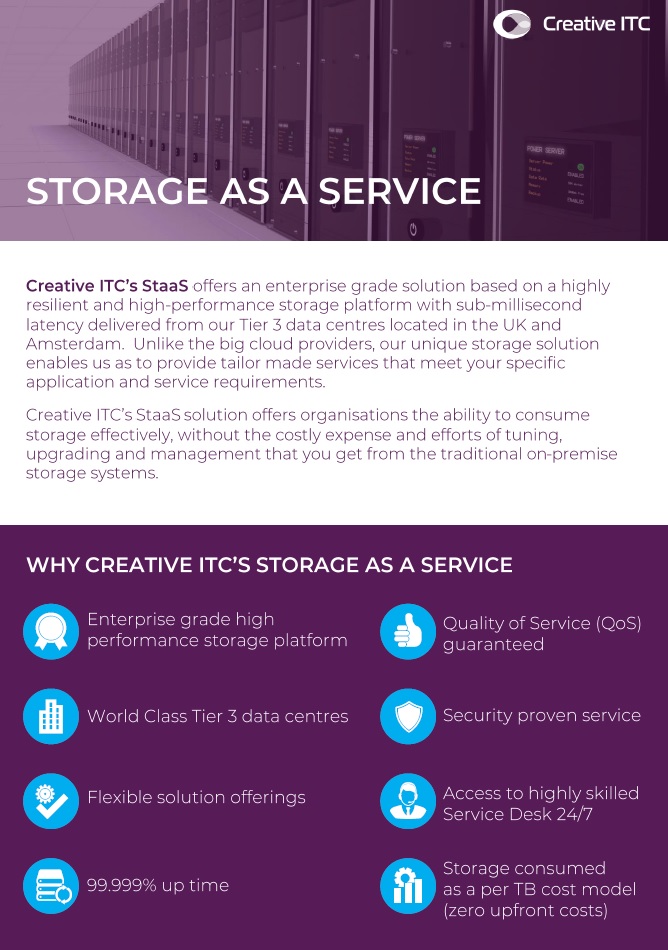 Creative StaaS Service Catalogue
Creative ITC's StaaS solution offers organisations the ability to consume storage effectively, without the costly expense and efforts of tuning, upgrading and management that you get from the traditional on-premise storage systems.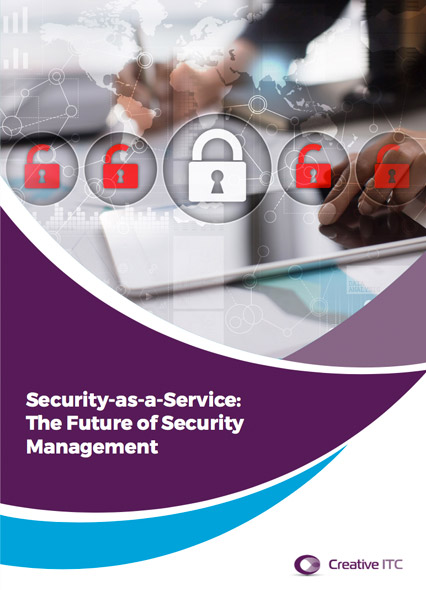 Security-as-a-Service: The Future of Security Management
Staying ahead in today's cyber landscape can be tough; especially if you've been relying on rigid, manual processes and siloed technologies. The security products you need are easy to buy, but not necessarily easy to manage. And organisations don't always have the internal resources or expertise.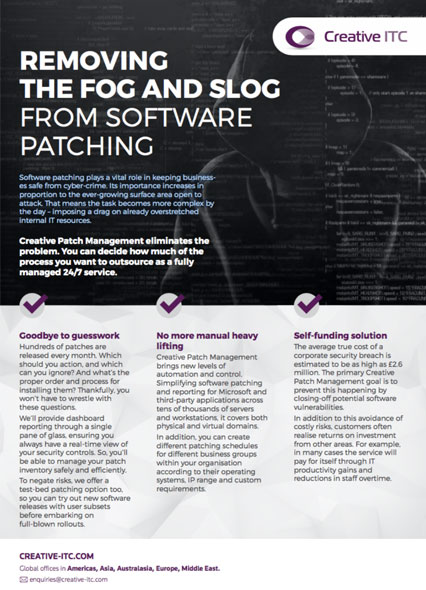 Removing The Fog and Slog From Software Patching
Software patching plays a vital role in keeping business- es safe from cyber-crime. Its importance increases in proportion to the ever-growing surface area open to attack. That means the task becomes more complex by the day – imposing a drag on already overstretched internal IT resources.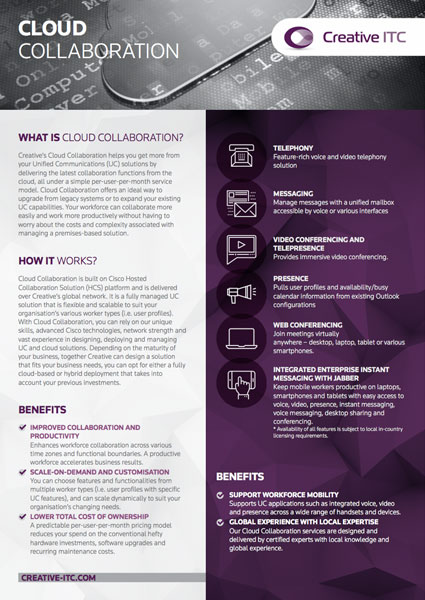 Cloud Collaboration
Creative's Cloud Collaboration helps you get more from your Unified Communications (UC) solutions by delivering the latest collaboration functions from the cloud, all under a simple per-user-per-month service model. Cloud Collaboration offers an ideal way to upgrade from legacy systems or to expand your existing UC capabilities.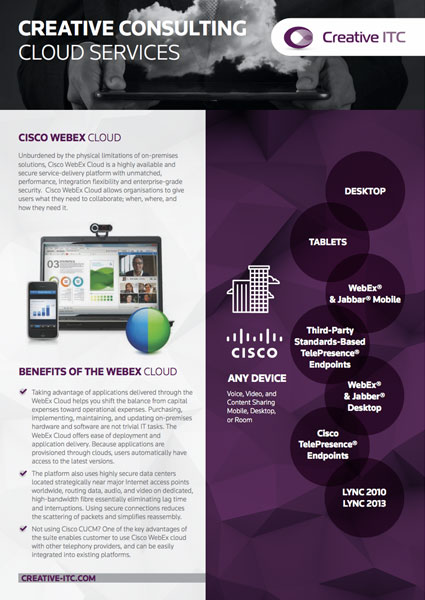 Cisco WebEx Cloud Services
Creative are Cisco HCS specialists, and have expertise in designing, deploying, supporting and training customers around the entire collaborative suite of products. Unburdened by the physical limitations of on-premises solutions, Cisco WebEx Cloud is a highly available and secureservice-delivery platform with unmatched, performance, Integration flexibility and enterprise-grade security.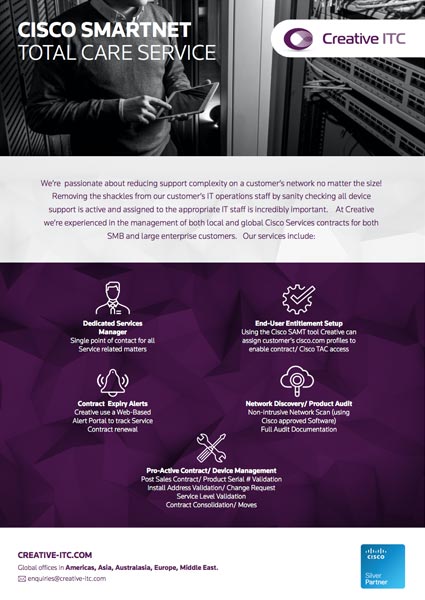 Cisco SMARTnet Total Care Service
We're passionate about reducing support complexity on a customer's network no matter the size! Removing the shackles from our customer's IT operations staff by sanity checking all device support is active and assigned to the appropriate IT staff is incredibly important. At Creative we're experienced in the management of both local and global Cisco Services […]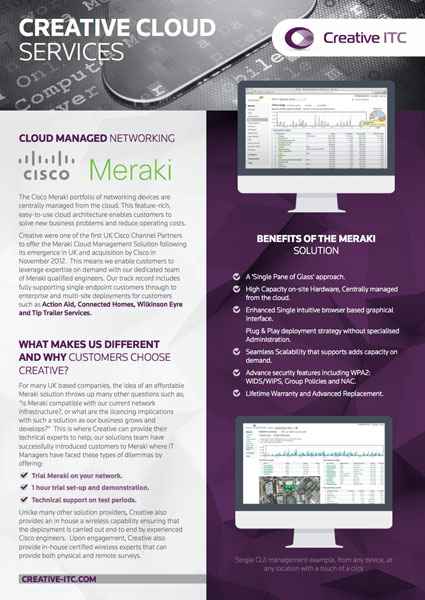 Cisco Meraki Managed Networking
We enable customers to leverage expertise on demand with our dedicated team of Meraki qualified engineers. We were also one of the first UK Cisco Channel Partners to offer the Meraki Cloud Management Solution. Find out more below.